So recently you may have noticed I bought myself a brand new HTC Desire. Since then I've been striving to get this site to display properly in the web browser.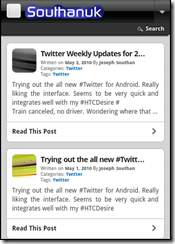 To achieve this I used the fantastic WPTouch made by BraveNewCode. A very simple and easy to use plugin that requires hardly any configuration. Its very easy to add new user agents of websites I wanted to target and looks great too! You can also integrate your Twitter account into it using their other plugin WordTwit [Unfortunately I don't use that on this blog, but I'm sure its up to the standard of WPTouch.]
To try it out on your mobile device, point your camera to this QR code and give it a scan, or just enter m.southanuk.co.uk to view it also.
[qrcodetag]https://m.southanuk.co.uk[/qrcodetag]