Not feeling the best so I thought I'd thrash out a blog post.
Just been resting for the good part of 3 days now, I think its just a cold so hopefully I'll be back at full strength in good time. In the meantime, here's what I've been up to:
Watched a very good anime, Tokyo Magnitude 8.0. About a group of 3; brother, sister and some girl they meet along the way. A Wikipedia quote to make things more clear: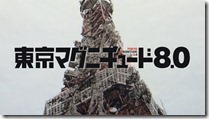 After a massive earthquake in Tokyo, siblings Mirai and YÅ«ki, who were visiting a robot exhibition in Odaiba at the beginning of their summer vacation, struggle to reach their parents in their house in Setagaya assisted by a female motorcycle courier named Mari, who is striving to reach her own daughter and mother in Sanjengaya. – Tokyo Magnitude 8.0 [Wikipedia]
Carrying on with my University course. Second semester is getting very interesting now. Becoming very involved, a cold doesn't help when you're trying to revise this stuff.
That's all really, just gonna take it easy for the time being. Maybe even write a less whiney blog post too.