Well…about time. lol. Thank you Joe 😀
Now, I'm writing I've got no idea of WHAT to write.
Since I've become re-obsessed with Spyro the Dragon, I think I shall write about that.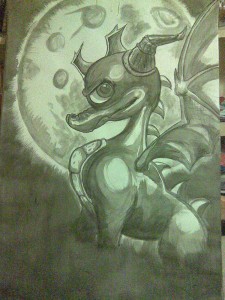 Firstly, it's an absolutely brilliant game.  I got the original one for Christmas 1997, when I first got my PS1, and I haven't ever had a bad word to say against it.  And I admit it…I like it so much I robbed one of the sequels  (Spyro: Year of the Dragon) from a 7year old friend of the family… I have no morals, I know.
Recently(ish) I was in Woolworths, however and I decided to go and buy (*GASP!!*) the latest Spyro game for my Wii… The Legend of Spyro: The Eternal Night (the image attatched to this post is an A1 ink painting a did in October, which I copied off the box of the game) It sounded so epic I had to buy it…it was £40… which I didn't really have. Thus, re-awakening my love affair with this heroic little purple dragon.
So I played it…got stuck on this blasted bit where the Dog-Pirates trap you in an arena and you have to outsmart this flying, fire-wielding boat, and so I put it away again whilst I 'revised' for A Levels. And then I moved out to South London, bringing my Wii and games, etc. Out came Spyro. Â Chij and Peter got a bit into Spyro over their Reading Week by watching me try to play it, and indeed, they DID help me get past the Dog-Pirates with their hover boat. So for this, I gave them both thanks. Peter also printed out the WalkThru for me, as well. So thanks for that too.
So after Halloween when I went back with Chij to Wales for my Reading Week, the Wii came with. I SHOULD'VE been writing my Art Essay, but instead I went to complete the game. Chij helped of course. But whilst he was at uni I stayed caved up in his room in the dark guiding the little dragon through levels of Pirates, Ghosts and other mean creatures.