Well there we have it, my new phone is in fact the HTC Desire.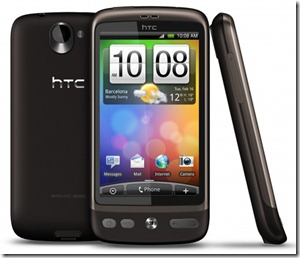 This nifty little device is one of the most powerful phones on the market and runs the up and coming Android OS [2.1]. It carries a speedy 1Ghz Snapdragon processor allowing for smooth and crisp navigation in the operating system, and for fast programs. Also, it has a 3.7′ OLED display, creating vibrant and colour rich pictures. Also featured on the device is a 5 Megapixel camera that takes rather good photos for a mobile phone.
Some specs for your viewing pleasure:
Screen    3.7-inch 480×800 AMOLED touchscreen
Camera    5 Megapixel autofocus with LED flash
Operating system    Android 2.1
Input    Dual-touch with HTC Sense interface
CPU    Qualcomm QSD 8250 (Snapdragon), 1 Ghz
Memory    512 MB flash, 576 MB RAM
A very powerful phone if I do say so myself. The Application Store (Market) included on all Android devices contains plenty of apps to entice and waste your time. The form factor of the device is very elegant and streamlined. Some may think its a bulky and heavy phone however, the Desire doesn't feel heavy in the hand compared to my old Nokia N95 8GB but its weight makes it feel solid. Speaking of solid, the build quality of the phone is tip top, although the way the back panel clicks in and out of place makes it feel a bit like it could break.
Overall I'm very impressed with my phone and will continue to test it out.