Assuming that I can afford the bloody thing, my next phone will hopefully be the very lovely Nokia N97.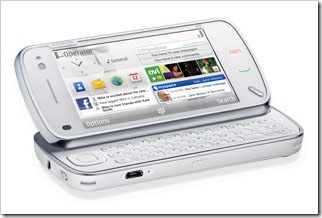 It has a tonne of new features so numerous that I cant be bothered to type them so I'll just copy from the Wiki:
Screen:              640×360 px (16:9 aspect ratio), 3.5 in, sliding tilt TFT LCD display, up to 16.7 m colours

Camera:            5.0 megapixels f/2.8 Carl Zeiss Tessar lens

Memory:            32GB on-board

Memory card:    microSDHC 16GB max (32GB Max MicroSDHC available in 2009)
Quite nice specs, No?
According to Google Product search:

So that would take at least 4 years to save for it at the moment, with no extra shifts or bonuses…
I ASSUME the price will come down to a more reasonable amount.
Anywho, Joe out.