A new interest of mine is that of train simulation. A widely followed program for years was the good old BVE train viewer. However, with the release of Windows Vista, a change to DirectX caused it to become incompatible. The program also showed signs of age, with some graphics cards not working. Then the community began its very own version of BVE aptly named "OpenBVE."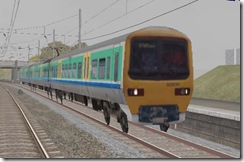 The development of this program has been very swift indeed. In about 8 months, the developer has made leaps and bounds from the original, and very buggy alpha. OpenBVE now has more features than the current BVE and some of the routes look much better in OpenBVE than the old BVE.
Myself and DarkFire, have been following development of this program for a while and are pleased with how things are turning out. With regular updates from the developer, it really feels as if this program wont stagnate and become vapourware.
If you are interested in such things check out https://openbve.uuuq.com/en/ for the route player program and https://www.trainsimcentral.co.uk for some routes and trains.